Automatic support for cash payment
Cash management systems allow you to eliminate the contact with cash at the point of sale. Their full version consists of devices receiving payment in cash, installed at the checkouts, and the equipment installed in store's back office, which is used for transferring banknotes from the cassettes in POSs to the cash transport cassettes. Nevertheless, the only devices possible to use are the ones installed on POSs, from which cassettes with banknotes (takings) are taken directly by guards, or opened in the back office of the store by the manager of the point of sale.
The equipment for receiving cash payments, and making change at POSs supported by vendors, is most often used:
in bakeries and other points of sale, where the seller is touching unpackaged foods,
at the point of sales that are prone to robbery (e.g. gas stations),
in all other types of stores, to shorten the working of employees by eliminating the process of cashier settlement and counting cash transferred to the bank.
The main advantages of the solution include:
elimination of mistakes made by cashiers when accepting the payment and making change,
elimination of frauds committed by cashiers and customers,
elimination of the possibility of stealing money from cassettes,
verification of accepted banknotes,
speeding up and facilitating cashier shifts at POSs - cashiers do not count the amount of cash benefits, they do not transfer the excess of cash, and they do not take cassettes with them when taking a break,
elimination of the cashier settlement process, during which the cashier has to calculate takings individually, and then repeat this whole process once again together with the manager.
For one of our clients, we have completed a pilot implementation of the cash management solution. The equipment used in this solution enables both the acceptance of cash payments, as well as making change. The set includes devices for handling banknotes and coins. Each allows the recycling of cash, which means that the money paid by customers is used for making change.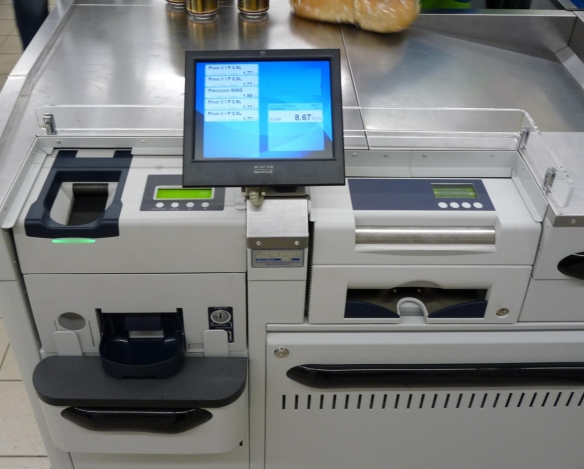 POS with cash management devices to support self-payment by customers. On the left, the device to handle coins, to the right the device to handle banknotes. Both with the recycling function.